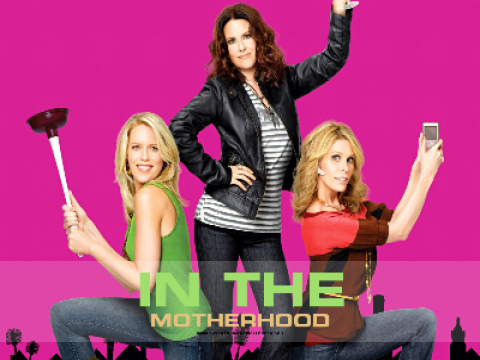 UCBT performers Horatio Sanz, Jessica St. Clair cast in new ABC comedy series
Mar 10, 2015
Horatio Sanz Embraces Motherhood
ABC has snatched up two more names for its upcoming child-rearing comedy In the Motherhood
.
Saturday Night Live
alum Horatio Sanz and Jessica St. Clair (
Worst Week
) will join the single-camera show, a redo of the popular online series of the same name chronicling the ups and downs of motherhood, according to
The Hollywood Reporter
.
The series will star Megan Mullally and Cheryl Hines acting out real-life stories submitted by mothers. Sanz will play Hines' manny, while St. Clair will play her "intimidating younger sister," who doesn't discipline her children.
In the
Motherhood
is slated for a midseason premiere.
LA General
Rob Corddry web series Childrens Hospital debuts; rated A- by Entertainment Weekly
Mar 10, 2015
Childrens Hospital
Rob Corddry's new web series -- Ken Marino, Megan Mullaly, Ed Helms, and others star in the show about hilariously inept doctors
In Rob Corddry's hilarious new Web series about the shenanigans at
Childrens Hospital
, the truly sick people are the doctors. Like the malpractice magnet (
Role Models
' Ken Marino) who explains his decision to give lipo to a 10-year-old boy thusly: "He looked fat on a CAT scan." Or another, played by writer-director Corddry, who channels
Patch Adams
by wearing clown paint and trying to heal with laughter instead of medicine. ("You know, I once cured a case of Lou Gehrig's disease by pretending I was trapped inside a box?") Launching Dec. 8, the raunchy meta-medi-satire -- which often tweaks Grey's right in its Anatomy -- is administered by an expert comedy cast that includes Megan Mullally, Ed Helms, and
Human Giant's
Rob Huebel. If you're the type of person who would enjoy watching a doctor sneeze and nonchalantly wipe her hand on a suffering child, check into this Hospital.
A-
LA General
UCB Profiled in City Scoops Magazine
Mar 10, 2015
THE KINGMAKERS OF COMEDY

The Upright Citizens Brigade has become a lightning rod for - and the shaper of - the country's best comedic talent .

On a warm Sunday night at around 9:00, a line snakes half-way around West 26th Street, starting near the entrance to the Gristedes grocery store. The line continues to the corner of Eighth Avenue, and up about halfway toward West 27th Street. The people in line are waiting - hoping - to see a show, even though the exact content of the show is a mystery to both viewers and performers alike. But not only does this mass of hopefuls not know exactly who or what they're trying to see; they're not even sure they'll get in, since this sprawling comedy waiting room is merely the stand-by line for the evening's mostly sold-out event.
Any veteran of New York's comedy scene - performer or fan - has likely figured out that the show in question is the famous ASSSCAT improv show at the Upright Citizens Brigade Theatre. Now in its twelfth year, ASSSCAT, which runs twice every Sunday night, features some of the funniest performers in the city - regular participants over the years have included Tina Fey, Amy Poehler, Horatio Sanz, and most of the current cast of
Saturday Night Live
- doing an entirely improvised comedy show based on a monologue from a guest star. On the night in question, we saw
Marijuana-Logues
and
Last Comic Standing
comedian Doug Benson inspire several of the performers, including former
SNL
star Sanz, to create scenes about veterinarians who employ dog kickers; children who hold movie candy up their butts; and Darth Vader killing a
Star Wars
fan's mom. ASSSCAT and UCB are very much anything-goes territory, which is a large part of why they have evolved from cult favorites to practically mainstream institutions
over the past several years.
The initials "UCB" are used as the general term for the Upright Citizens Brigade Theatre; the improv, sketch, and comedy writing school the organization runs; and the troupe that started it all. Whichever you're referring to, though, it's clear that UCB has become the most prominent training ground in comedy today, and a talent incubator that feeds the best up-and-coming comedy performers into the worlds of television and film.
While the main UCB troupe that founded both the theater and school - Amy Poehler, Matt Walsh, Matt Besser and Ian Roberts - had their own show on Comedy Central from 1998-2000, their profile really soared with the hiring of Poehler on
Saturday Night Live
in 2001. She has since become a star, and a large number of UCB students and performers have followed in her footsteps toward prominent positions in the comedy world. The last two new
SNL
cast members, Bobby Moynihan and Casey Rose Wilson, are both UCB veterans. So are current and former
Daily Show
stars Ed Helms (now a cast member on NBC's
The Office
), Rob Riggle, and Rob Corddry. The three members of the popular sketch show
Human Giant
- Rob Huebel, Paul Scheer, and Aziz Ansari (who'll also co-star in Poehler's upcoming NBC sitcom) - all come from UCB, as is
Old School
and
Road Trip
screenwriter Scot Armstrong. Adam McKay, the former
SNL
head writer and current Will Ferrell partner-in-crime who directed
Anchorman
and
Talladega Nights
, was one of the troupe's original members.
While Chicago's Second City and L.A.'s Groundlings were long the main feeder troupes for
SNL
- and The Groundings have remained well-represented on the show in recent years by Chris Parnell, Kristin Wiig and Will Forte - UCB has clearly caught up.
The Upright Citizens Brigade began in Chicago in 1990, as a comedy troupe with a rotating line-up that included Besser, Walsh, Roberts, Sanz, and McKay. Using the long-form improv training they received from a legendary improv master named Del Close, they performed there for the next six years before moving to New York to pursue the show on Comedy Central. By this time, McKay and Sanz had moved on to
SNL
, and Poehler had come aboard.
When they hit New York, they didn't realized that while long-form improv was the norm in Chicago, it was a fairly new entity for the Big Apple.
"It was something we were doing already, and I don't think we knew or were even thinking about whether it was being done here," says Besser. "We were all about sketch, and the improv show was more of a fun thing to do on Sundays. ASSSCAT caught on so much that people were asking questions and wanting us to do workshops. We'd really brought something unique."
So the four began teaching workshops, and when the demand proved too great, the workshops evolved into full semesters of classes. At the time, no one saw long-form improv as a direct path to success.
"We did improv because we knew it was our type of comedy," says Besser. "I started doing stand-up before I did improv - I wasn't even aware of improv before I moved to Chicago - and I saw all these shows that blew me away."
At this point, the UCB program has turned out to be the perfect training ground for making a living in comedy. Wilson, who joined
SNL
last year, finds that her UCB training - she began taking classes there in 2003 - inspires much of her writing work at the legendary, and now hotter-than-ever, sketch comedy show.
"In the writers room, a lot of the way we write is through improv," says Wilson, who also cowrot and will appear in
Bride Wars
," a comedy starring Anne Hathaway and Kate Hudson. "It's not the kind of training where you're doing these crazy characters that you're ready to go straight to
SNL
with. If anything, it's letting everyone think off the top of their heads. It's so freeing to do improv instead of, 'here's my character and my wig and my bag of props.' It's really a different way of looking at comedy."
Poehler elaborated on this concept in an interview with this reporter several years back. "When you do improv and sketch, you have to get used to collaborating, and
SNL
is a huge collaborative process," Poehler explained. "Come game time, when we have to perform, it's scripted. But up until that moment, you're constantly working together trying to pick the best idea. So my UCB experience helped me with that, the idea of not being too precious with your words, and finding a way to value other people's creativity over your own sometimes. My training in the theater - the show I did at UCB - also helped me be a little more fearless as far as being on stage, you go out there without knowing what you're going to do and entertain a group of rowdy youths. Comedy hooligans, all of them."
Anthony King, UCB's artistic director and also the co-writer of last year's off-Broadway hit
Gutenberg! The Musical!
, cites the theater's strong philosophy for the success of so many of its students.
"Part of it is letting people do what they want to do and bring their voice to it, and the belief in the game, of using patterns of behavior and taking ideas and exploring them in that way," says King. "It's just a philosophy that makes sense. It takes people who are already funny and have smart ideas, and makes them funnier."
When King refers to "the game," he's basically talking about the central comic idea in a performance piece.
"Trying to find the 'game' of a scene is the most helpful thing, which is, what's the hook. What's the most interesting thing?" says Wilson. "That's what you follow when you hear the audience laugh for the first time. Or if something interesting happens, then you follow that and listen to the audience. It can be the smallest thing - maybe you even mess up a line - and then you follow the reality of what's happening on the stage, even if it's not what you anticipated or planned for the scene. It's about being in the moment. Finding that interesting thing and following the game was revolutionary to me in terms of improv and comedy and training. It's been a cornerstone of anything I try to do with auditioning, acting, even writing - everything."
Much of UCB's philosophy comes from the teachings of Close, Chicago's late improv comedy guru who taught all four main members of UCB, plus greats such as John Belushi, Stephen Colbert, Mike Myers, Tina Fey, Bill Murray, Gilda Radner, and many, many more. Close developed a structure for improv that came to be known as "The Harold," which consists of numerous scenes tied together in a seemingly loose, but actually very tightly structured, fashion. The Harold is part of the basis for UCB's teachings, but Besser says it has evolved somewhat beyond that over time, and also that the complicated nature of long-form improv has made deciding exactly how to teach it a lengthy process.
"If you go through our school, we have a definite, tangible technique that we teach, and we've made an effort to teach it in the right order," says Besser. "We all came from Chicago, where there were a lot of different improv schools, and they all used the same words and phrases to mean different things. It was kind of confusing to us. So we tried to boil it down to what we understood, and it's taken us awhile. When you teach things in the wrong order, or use different semantics for the same methods, people get lost. So we've made a real effort to teach things in the right order and make them understandable. We finally made it really easy to stick with."
While UCB's school has no semesters, per se - the classes are ongoing, with rolling admission - King says that about 900 students take classes at any one time with about 25 instructors. The core curriculum consists of four main levels, followed by two advance classes for improv. There is also a three-level sketch program, and various other writing and performing classes.
At UCB's theater, much of the activity consists of shows put on by one or more of UCB's twelve improv teams - known as "house teams" - which consist of about 8-10 performers each, all of whom were trained at UCB. Students in the school who complete the four levels of improv training can audition for one of the house teams, but placements are highly competitive.
"We tell people they should not take classes for the goal of being on a team at UCB, as the school and the theater are separate from each other," says King, who notes that their most recent audition had about 300 people try out for ten spots. "There's 900 students at any one time and 10-12 teams, so there's just not that many places. We want only the very best to be performing on our stage."
That said, there are still many ways to stay involved with UCB post-training, other than placement on a house team.
"A lot of them will take advanced classes or form indie teams, and perform all over the city in different venues to keep getting better at what they're doing," says King. "It's an art form, so it takes a lot of time to get really comfortable and good at it. There's also tons of other ways to be involved in the theater: through writing shows, doing stand-up and sketch and one-person shows, that kind of stuff."
Whatever one's comedic ambitions - whether to shoot for
SNL
stardom, or just to occasionally see a funny, outside-the-box comedy show - UCB is the city's home for anyone with a passion for comedy.
"A lot of really creative people come out of there because it's this really different way of looking at comedy, and they really push the boundaries," says Wilson. "But the main thing about UCB is the community of intelligent, funny people. You meet these amazingly funny people, and get to be a part of their vision for the night. There's nothing like it."
For more information on UCB, check out , or call (212) 366-9176. To see original videos featuring UCB talent, check out
NY General
Newer Entries »
« Older Entries