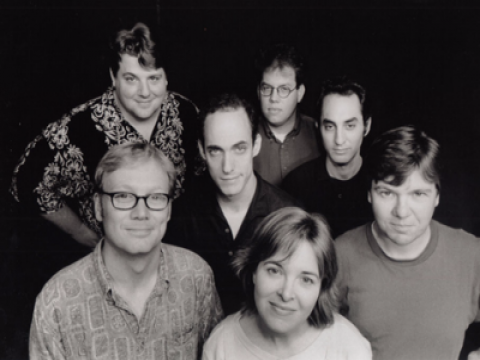 THE SWARM - Together for One Week Only!
Mar 17, 2015
The Swarm: Slow Waltz Around Rage Mountain
This legendary improv team has inspired legions of comedy fans and played to more sold-out audiences than Ghandi, Martin Luther King and John F. Kennedy combined. See them before they meet the same fate.
Starring: Dave Blumenfeld, Sean Conroy, Andrew Daly, Michael Delaney, Billy Merrit, Katie Roberts and Andrew Secunda.
Directed by Kevin Mullaney
'Perhaps NYC's finest practitioner of long-form improv, The Swarm spontaneously creates novel scenes with singular wit and precision. But you'll be too busy laughing to notice its humble artistry.' - Time Out New York'The keen performance can be attributed not only to what the group did and said, but also of their noticeable respect for the forms they presented, the scenes they established, and for each other. The performers rarely deviated from their perceived mission of creating fun, fascinating scenes, and held the audience enrapt even when they weren't in stitches.'- Jeff Catanese, improvreview.com
8:00pm
$8
NY Shows
Neil & Paul: Growing Up Is Tough named LA Weekly "Pick of the Week"
Mar 17, 2015
Neil & Paul: Growing Up Is Tough
GO
Neil Campbell and Paul Rust are like those college geeks who would taunt the frat boys -- yucksters who'd stick a sleeping jock's hand in a bowl of warm water. Their latest sketch show, 'Growing Up Is Tough,' takes a jab at bratty teenagers, the types who get turned loose too early in life, only to buckle from their newfound independence. However, it's not the bills that spoil the good times of watchin' R-rated movies (like Nell) and growin' mustaches, but the evil Grither monster. Yes, a tiger-faced beast.
The duo are Pee-wee Herman fans, and it shows as Tough highlights plenty of potty humor, puckish antics and a minute's worth of masturbation. Their pratfalls are silly, but the pair shine in their singsong cadence, eloquently demonstrated in the satirical poem "The Symphony of the City" -- an array of Manhattan stereotypes from union workers to the suspender-wearing dude who plays the sax on a fire escape.
Campbell and Rust also have a flair for sophomoric shorts, but unfortunately the audience isn't treated to them here. In Rust's college documentary,
Do You Know Lucinda?
, the comedian stalks a girl he had a date with, a year later. It's a poignant, verite take on love lost. "Lucinda and I went on one great date, and then she wasn't interested in seeing me again for no reason," says Rust. "I received an e-mail from her parents demanding that I take the video off my Web site or they'd take legal action." And that's one to grow on. With Nick Wiger. Directed by Owen Burke.
LA Shows
MEET THE TEACHERS: Peter Gwinn
Mar 17, 2015
Peter Gwinn has taught both improv and sketch at the UCB Theater. You may have seen him performing on the UCBT stage with such groups as Chicago Style, The Stepfathers, Arsenal, and Asssscat. He also performed and taught at Chicago's ImprovOlympic, where he was a founding member of cult hit musical improv group Baby Wants Candy. These days, Peter is a writer on Comedy Central's
The Colbert Report
.
UCBT: What are your feelings on working at one of the country's hottest comedy shows right now?PETER
: The show is going great and we're really excited about getting to go to the Emmy's. Although lately, it seems like our fans are getting super-rabid, which is a bit scary. Like, our 'Better Know a District' district last week had Skywalker Studios in it, so we had a bit with Stephen swinging a lightsaber in front of a greenscreen, like the
Star Wars
kid in that internet video. THE NEXT MORNING there was a youtube video where someone had added a background and lightsaber sound effects. This is, like, less than 12 hours after it aired. I don't know how comfortable I am with that level of attention.
UCBT: How do you feel your improv background has helped you with your professional pursuits? What about the comedy communities in Chicago and NYC has helped you along the way?PETER
: There's the obvious training in finding/heightening a game that helps, as well as the ability to make quick decisions, which helps when you're writing stuff for the show that night. Beyond that, you learn really well how to work as part of a group. It's a lot more fun to write with someone who listens to your ideas and builds on them than with someone who doesn't listen at all and just pushes their own ideas.
UCBT: You're teaching writing classes at UCBT now. You've taught improv in the past. UCBT is known for producing great improv content and performers, but the nature of sketch means the public is less aware of the hard work people put into their sketch writing and the products coming out of the theater's sketch training program. What are your impressions on the state of the sketch program and sketch students at UCBT?PETER
: I think there could be more improv-sketch crossover. Not as many people seem to do sketch. Which is no surprise - sketch is a lot more work than improv. But writer-performers are so much more marketable than improvisers. I'd like to see people broaden their horizons.
NY Classes
Newer Entries »
« Older Entries