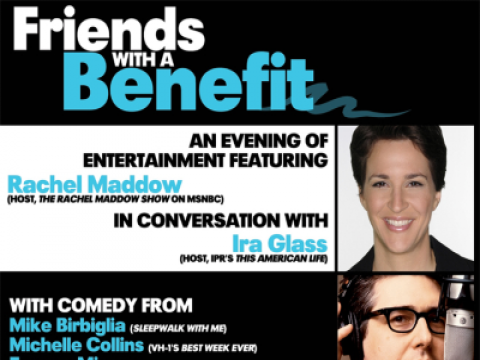 UCBT's Christina Gausas, Scott Adsit, Rob Lathan & More Perform Benefit Show With Rachel Maddow & Ir
Feb 23, 2015
Friends With a Benefit--An Evening of Live Entertainment at Town Hall
Sunday, August 29, 2010, 7pm
Please join us for Friends with a Benefit, an evening of live entertainment with proceeds going to the American Bird Conservancy for their efforts in the restoration of the Gulf.
On Sunday, August 29, 2010, Rachel Maddow (host, MSNBC's
The Rachel Maddow Show
) will join Ira Glass (host, PRI's
This American Life
) for a live, onstage conversation at New York City's famed Town Hall.
Noted comedians including
Mike Birbiglia (
Sleepwalk with Me
)
, Michelle Collins (VH-1's
Best Week Ever
),
Rob Lathan
, and
Jamie Kilstein (Citizen Radio)
will join acclaimed musicians Lucy Wainwright Roche, Barkuna and Erin McKeown for an exciting line-up of comedy, music, and entertainment, hosted by
Scott Adsit (
30 Rock
)
and
Christina Gausas (
Adsit & Gausas
)
. And more!
Friends with a Benefit is an evening of entertainment with ticket proceeds going to the American Bird Conservancy and their continuing restoration effort following the disaster in the Gulf of Mexico. For more information, visit
Town Hall is located at 123 West 43rd Street, New York, NY, 10036. Tickets are available through Ticket Master online at
or by telephone at 1-800-982-2787.
Tickets: $50 for Orchestra & Loge, $40 for Balcony.
WHAT: Friends with a Benefit, with all proceeds going to restoration in Gulf. A conversation between Rachel Maddow and Ira Glass. Plus entertainment from Mike Birbiglia, Lucy Wainwright Roche, Erin McKeown, Michelle Collins and more.
WHERE: Town Hall; 123 West 43rd Street, New York, NY 10036.
WHEN: Sunday, August 29, 2010 at 7pm
NY General
Joe Mande's Screenplay Adaptation of Glenn Beck's Novel: The Overton Window Featured in The New York
Feb 23, 2015

Live from New York, It's "The Overton Window"
It's fair to say that Joe Mande is a glutton for punishment. The comedian and author of the blog-to-book, "Look at This F*cking Hipster," recently took it upon himself to read Glenn Beck's bestselling novel,
The Overton Window.
It all began as masochistic experiment for a column Mande writes called "Taking One for the Team." It turned out that reading
The Overton Window
, which Mande polished off in a few hours, was the easy part. More difficult was effectively conveying the consummate awfulness of Beck's writing in a few hundred words. Mande decided that the only way to do the book justice would be to adapt it into a screenplay, which he recently staged at the Upright Citizens Brigade Theatre in Chelsea.
In lieu of Hollywood conservatives like Jon Voight and Stephen Baldwin, Mande enlisted a number of comedians for the reading. Chris Gethard played Noah Gardner, the cocky heir to a public relations dynasty and a young man with "an outstanding record of success with the ladies." Kristen Schaal starred as lithesome Tea Partier Molly Ross. Schaal played the anti-government crusader with the manically spacey style she's brought to
The Daily Show
and
Flight of the Conchords
. The
30 Rock
star Scott Adsit was Noah's father, P.R. guru Arthur Gardner-the mastermind who sold the American public on restless leg syndrome and Che Guevara t-shirts.
The plot goes something like this: Molly and Noah meet cute in the office break room. He's there buying a Tootsie Roll from the vending machine; she's putting up flyers for a group called "Founders' Keepers." For Noah, it's love at first sight, even though he thinks Molly's politics are crazy. Together they uncover a plot-spearheaded by Noah's father-to overthrow the American government. Along the way, Molly, Noah, and a ragtag band of patriots share some unlikely experiences. In one scene, Molly slips past a
Star Wars
-loving T.S.A. employee at the airport by pretending to be Natalie Portman, and the script's finale hinges on a fateful mix-up involving a fake atomic bomb.
Molly Ross (Kristen Schaal) loves Noah Gardner (Chris Gethard) almost as much as she loves the Constitution.
Adapting the "relentlessly crazy" book was an excruciating process. "I was very concerned about capturing the arc of the story and the tone of the dialogue, so I ended up reading and rereading each chapter at least a dozen times," he said. "It was pure torture." The end result is canned dialogue that, in the hands of performers like Schaal and Gethard, plays as more absurd than it already is:
NOAH: Be very quiet. This is my Dad's office.
Molly picks up a small statue on the desk. It's a composite of the Statue of Liberty merged with the Colossus of Rhodes
.
MOLLY: What is this?
NOAH: That? Oh, it's just a visual representation of my father's life philosophy. He thinks law and order, the Statue of Liberty, can only take a society so far. Because at some point law must be replaced by militarized force, the Colossus of Rhodes, for any true progress to be achieved.
MOLLY: Thank you for explaining that to me.
Torture aside, the writing process did have a few bright spots. Mande's favorite moment in the screenplay is the almost-sex-scene between the leads. (Noah to Molly: "I've got one rule in the bedroom, and it's don't tease the panther.") Judging by the uproarious response, the audience at the Upright Citizens Brigade appeared to enjoy watching it at least as much as Mande and-I'm guessing-Beck enjoyed writing it.
Curious patriots-and Hollywood producers-can read Mande's screenplay

here
.
(Video stills courtesy of Todd Bieber.)
Joe Mande Presents Glen Beck's The Overton Window will be returning to the UCB Theatre in October. Check

our schedule
for details.
NY Shows
Derek Waters to develop comedy for FX
Feb 21, 2015
FX makes 'Grade' with Waters, Cera
Funny or Die series creator gets cable gig Derek Waters, who's behind the 'Funny or Die' Web series
Drunk History,
has partnered with thesp Michael Cera and scribe Emily Kapnek to develop a comedy for FX. Waters, Cera and Kapnek are the exec producers behind
13th Grade
, which centers on a high school graduate who's content with his meager lifestyle -- until his girlfriend dumps him for being 'stuck' between childhood and adulthood. Waters is onboard to star in the project, which is based on an idea by him and Paige Gullivan. Cera is co-writing the script with Gullivan. Also onboard as exec producers are Naomi Odenkirk and Mosaic. FX Prods. is handling the show inhouse. Development comes as FX looks to continue expanding its comedy lineup. Waters and Cera first connected when Cera guest starred on
Drunk History
, which has also featured thesps Will Ferrell, Jack Black, Danny McBride, Don Cheadle and John C. Reilly. Waters is next set to appear opposite Owen Wilson in the Farrelly Brothers comedy
Hall Pass
. Cera, currently onscreen in
Scott Pilgrim vs. the World
, also wrote and produced the Web series
Clark and Michael
. Kapnek, whose credits include
Hung
, is a consulting producer on
Parks and Recreation
.
LA General
Newer Entries »
« Older Entries