See UCBT's Curtis Gwinn & John Gemberling in BEST WORST MOVIE
Feb 27, 2015

UCBT's Curtis Gwinn & John Gemberling Appear in the Troll 2 Documentary BEST WORST MOVIE
Meet the Filmmakers! Special question & answer events following the prime and late evening shows on Fri 5/14 and Sat 5/15! Also, don't miss the midnight screenings of
TROLL 2
, also on Fri 5/14 and Sat 5/15.
Best Worst Movie is the acclaimed feature length documentary that takes us on an off-beat journey into the undisputed worst movie in cinematic history:
TROLL 2
. In 1989, when an Italian filmmaker and unwitting Utah actors shot the ultra-low budget horror film,
TROLL 2
, they had no idea that twenty years later they would be celebrated worldwide for their legendary ineptitude. Two decades later, the film's now-grown-up child star (Michael Paul Stephenson) unravels the improbable, heartfelt story of the Alabama dentist-turned-cult movie icon and the Italian filmmaker who come to terms with this genuine, internationally revered cinematic failure.
For more info, showtimes and tickets,

click here
.
NY General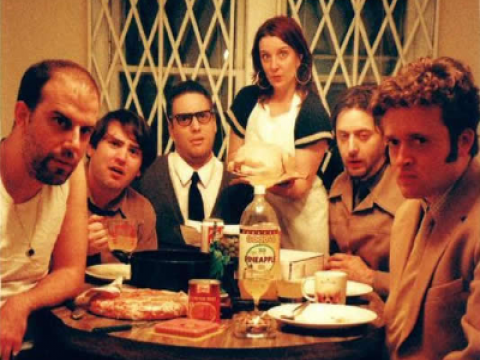 LA Weekly calls Death by Roo Roo "some of the funniest and raunchiest improv in town"
Feb 27, 2015
You & Your Fucked-Up Family

The Web-based Urban Dictionary defines "roo roo" as a "form of severe, brutal and enthusiastic sodomy perpetrated upon the posterior nether regions of the victim." This definition sure resonates when you're watching Death by Roo Roo perform some of the raunchiest and funniest improv in town. Roo Roo's Jackie Clarke, Brett Gelman, Curtis Gwinn, Adam Pally and Danielle Schneider possess the uniquely perverse gift of successfully merging intelligent, fast scenework with a brand of crude humor common among sailors or an episode of South Park. The troupe's signature improv form is dubbed "Your Fucked-Up Family," where one volunteer from the audience is interviewed about his family. The group then improvises a series of vignettes loosely based on the Q&A session. At their opening night, inspired by an audience member's revelation about religiously zealous relatives, DBRR created scenes ranging from an erection-prone uncle who loves telling Biblical parables to his nieces and nephews in the middle of the night, to a naive moviegoer who eats popcorn filled with "Jesus butter" from a creepy stranger. Can you guess what that butter's really made from? With Soundtrack.
LA Shows
Kate Micucci profiled in LA Weekly
Feb 27, 2015
Kate Micucci: Music Not Quite From Here
Singer-songwriter/comedian Kate Micucci is not as young as she looks, which is about 12. Because of her diminutive build and pixie face, her eyes are proportioned like one of the sweeter-looking Muppets. The look is combined with a squeaky voice and an expression that flips between being slightly dazed and 10 steps ahead of the rest of us, which she actually is.
With this precocious, childlike quality, she can pluck a ukulele with the best of them, or a guitar, or keyboards, and croon a lyric in honeyed tones: "My self-esteem's not low enough to date you. It's getting close, but it's not there yet."
She plays at the Steve Allen Theater and at Upright Citizens Brigade when she isn't taping for the TV show
Scrubs
. A racy duo act she has with Riki Lindhome - named Garfunkel and Oates after the second bananas of two famous singing duos - appeared on
The Tonight Show With Jay Leno
in March. The song, "Pregnant Women Are Smug," describes self-entitlement absorption of women with child - a bitter song sweetly sung, which is the very blend that adds up to the smart, wry tonality that packs Hollywood's hipper clubs with 20-year-olds.
Micucci was born in New Jersey and grew up in Pennsylvania. Theater and music have always been part of her life. She has one brother, a stage actor who builds sets for the Public Theatre in New York. Her mother is a piano teacher, which explains a lot. Her father is an electrical contractor in a small town, "but he's really creative," Micucci explains. "He used to make our toys by hand. There was always that kind of imagination in our house, which was always a little crazy. People at my school used to say, 'I just want to have dinner at your house to see what it's like.'"
As a child she was always seeing professional plays because of bus tours administered by the public school system. And her mother was always taking her to see plays.
She describes herself as a late-developing child who didn't date until after high school, yet she was writing songs at a very early age. So rather than write about boyfriends and love, she wrote music without words. In college she started writing songs with words. "My first songs were about animals and shoes. I wrote one song about PF Flyers, and one to my fish.
"Near the end of high school, I was always supershy, backward. I thought I needed a plan. Everyone says you need a plan, and my dad was sick of taking me to different colleges. One day, it was hailing after we'd checked out Cornell and my dad had just had it. He'd taken me to 20 schools. He stopped the car. 'Why don't you visit your aunt and uncle in Hawaii?' he said.
"I said, 'Really?' So I lived in Kona for three months on my aunt and uncle's porch. I woke up one day with a really strong feeling that I had to go to Loyola Marymount University in California, a Catholic school, though I was never raised Catholic.
"So I dressed for L.A. - black miniskirt, lime-green T-shirt with sequins, my mom gave me her sandals. I was wearing these chunky mom sandals, and a black purse, and I had just gotten a cell phone that was peeking out of my purse, and I figured, hey, I'm, like, cool, I really fit in. One girl walked up to me and said, 'Your're not from here, are you?' "
Being not quite from here, and being only vaguely aware of it, is really the underpinning of her stand-up act and her music. Garfunkel and Oates are more brazen, but the essence is the same as when Micucci is solo, singing in the voice of a generation struggling to find its way.
LA General
Newer Entries »
« Older Entries