Upright Citizens Brigade Theatre
Upright Citizens Brigade Theatre has affordable, comedy shows seven nights a week in NYC and LA. Watch the best improv, sketch and standup in the country. Our original comedy video productions have garnered the national spotlight. We also run the first nationally accredited improv and sketch comedy school in the country. For information on our courses, visit the Training Center.
Time Out names UCB performers amongst "Comedians to Watch in 2014"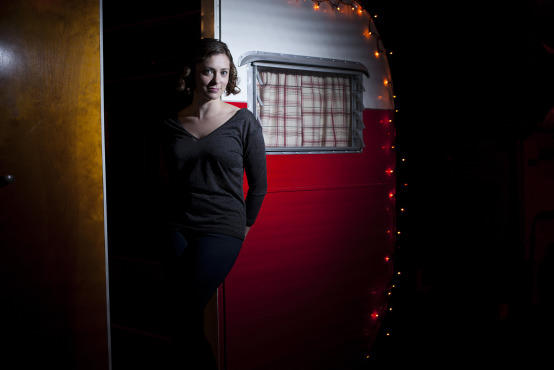 Time Out
November 12, 2013
Comedians to watch in 2014: Eleven up-and-coming local performers
by Jane Borden
Check out our profiles of eleven LA-based comedians who are hitting it big or about to blow up, so you can say you were a fan of the funny way back when.
We're experiencing a golden age of comedy—and living on its ground zero. Since Los Angeles has Hollywood, the best and brightest comics eventually head West to work or find work, and meanwhile ply their trades onstage, providing local audiences with a vibrant, diverse and cutting-edge comedy scene. While it's thrilling to catch bona fide celebrities when they return to the live stage, it's more exciting to witness the moment your favorite up-and-coming performers blow up. So click through the slideshow and peek into the minds of 11 local comedians who are hitting it big, right now.
Chris Smith
Cristela Alonzo
Brent Morin
Rachel Bloom
If not for her explosively popular 2010 song/short, "Fuck Me, Ray Bradbury", about a sexy sci-fi nerd,
Rachel Bloom
might not have shaped a career around singing. Now, after eight more high-quality music videos (and several web awards for them), Bloom is developing with Aline Brosh McKenna a musical-comedy half hour for Showtime. It's tentatively titled
Crazy Ex-Girlfriend
and follows the misadventures of a woman who drops her life to stalk an ex. Arguably the funniest among her videos, frequently directed by Paul Briganti and sometimes cowritten with Jack Dolgen and/or Dan Gregor, are "I Steal Pets," about a high school outcast desperate for friends, and "Historically Accurate Disney Princess Song," which marries chipper animation and orchestrals with grim medieval realities (the plague, brutal antisemitism). These don't receive nearly the same amount of views as those with sexually overt titles like "Bradbury" and "You Can Touch My Boobies," the undereducated fantasy of a 12-year-old boy. Still, one never feels as if Bloom is capitalizing on sex, or pandering with it. It's simply a topic she enjoys and isn't afraid to tackle.
Time Out Los Angeles: How do you pull off being both sexual and funny?
Rachel Bloom: Thanks for thinking I do—there's so much debate about women and sexuality in comedy right now, especially on the Internet, so I feel like, if you take any stance on it, someone will hate you. But my partner and I were recently talking about the fact that, in every song I do, there's the "boner-killer moment," like, "Oh, you thought this was hot? Here's Golda Meir!" [The fourth prime minister of Israel appears as a character at a pivotal moment in "You Can Touch My Boobies."]
Time Out Los Angeles: What was the inspiration for that song?
Rachel Bloom: It came from the diary I kept when I was 12 and wrote erotic poetry, stuff like, "We touched each other's chests. On this moment. On this night. We have never kissed like this before." I found the diary and wanted to do something with it, because it's such a funny time—you suddenly have intense sexual feelings, but you have no idea what sex is or how it works.
Bloom releases her second album, Christmas Sucks: A Hanukkah Album, on Nov 19 along with music video "Hannukah Honey," and celebrates the release with a concert Dec 7 at Nerdmelt. She also performs at Comedy Living Room on Nov 19, The Novel Cafe on Nov 20, and the Virgil on Nov 25.

Follow Bloom @RachelDoesStuff
Taylor Williamson
Ron Funches
Cameron Esposito
Cameron Esposito
pulled an impossible feat: She made her network debut simultaneously with two late-night talk show hosts. Technically, she appeared doing stand-up in September on
The Late Late Show with Craig Ferguson
, but Jay Leno was another of the show's guests. The topic of denim shirts arose in her set—Esposito mines both the stereotypes and realities of life as a lesbian in a tone best described as badass-adorable—so she glanced to her right and mentioned that she and Leno share an affinity for them. Then the three comics riffed a bit and suddenly she abandoned the microphone stand and the rest of her material to join them, after which a conversation led Leno to pronounce "You're the future."
Time Out Los Angeles: Did you know Leno would be there?
Cameron Esposito: When I went to the dressing rooms, he saw me and said, "You're the comic on the show. I can tell." He asked what other late-night shows I'd done, and I said this was my first. Then he said, "Oh, you should put your notes away. Don't worry. It's your act; you know it." And I was like, Oh, wow, Jay Leno is giving me advice.
Time Out Los Angeles: And then you made fun of his denim shirt!
Cameron Esposito: You always want to play to the other comics in the room. You just don't imagine they'll be Leno and Ferguson.
See Esposito host "Put Your Hands Together" every Tuesday at UCB. You can also listen to the PYHT podcast here. Esposito will appear on Chelsea Lately on Nov 13.

Follow Esposito @CameronEsposito
Thomas Middleditch
After several bit parts and indie roles (
The Office
,
The League
,
The Campaign
),
Thomas Middleditch
is stealing a lot of spotlight. He's the lead in Mike Judge's new HBO half hour show
Silicon Valley
—and also costarring in Scot Armstrong's buddy-comedy for Universal,
Search Party
. Stealing the spotlight is something to which Middleditch is accustomed, as a member of Improvised Shakespeare Co., one of the only commercially successful long-form improv shows ever; and as Doobs, an aggressively odd and wildly popular guest character on the College Humor web series Jake & Amir. "Doobs will follow me to the grave," he told us over the phone. "It could be the trailer for Search Party and in the comments, people will be like 'It's Doobs!'" If Middleditch sounds a bit nerdy, that's because he is. He loves Dungeons & Dragons, parlor games and making rudimentary instruments. But there's one geeky love he's trying to shake.
Time Out Los Angeles: You play a lot of video games, huh?
Thomas Middleditch: Yeah. But actually this is the one year where I'm like, maybe I should cut back. Don't get me wrong, I'm playing GTA5 [the latest in the Grand Theft Auto franchise]. But I'm wondering how dangerous it can be of a time suck. You're under control and then suddenly, one Friday to Sunday, you play nonstop. And then you get depressed when you're back to real life. So I'm doing other stuff right now, like amateur [inaudible].
Time Out Los Angeles: Did you just say "amateur camping"?
Thomas Middleditch: No, carpentry—you know, like Jesus Christ. I'm trying to get in touch with my manly side. So I have a couple of tools and a manual on how to make an end table. And then I'll have something, as opposed to a video game where you just have a memory and then the memory is gone.
See Middleditch in Search Party, Sept 2014 and in Silicon Valley, airing spring 2014. He performs regularly at UCB in Diamond Lion, Gravid Water and SnowPants.

Follow Middleditch @Middleditch and on his website
Kurt Braunohler
Emily Heller
Rory Scovel
(
source
)