Upright Citizens Brigade Theatre
Upright Citizens Brigade Theatre has affordable, comedy shows seven nights a week in NYC and LA. Watch the best improv, sketch and standup in the country. Our original comedy video productions have garnered the national spotlight. We also run the first nationally accredited improv and sketch comedy school in the country. For information on our courses, visit the Training Center.
Time Out names Doug Loves Movies, SuperEgo Live "don't-miss live podcasts"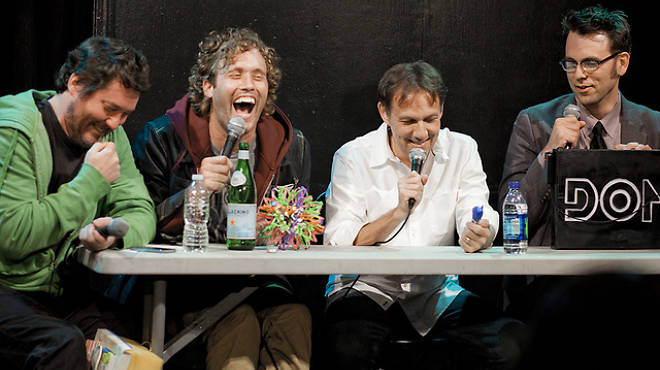 Time Out
June 2013
Comedy shows in LA: 10 don't-miss live podcasts

by Danny Lobell
Some of the best comedy shows in LA are found at live tapings of these comedians' podcasts, where improv is given a whole new meaning.

Fortunately for Angelenos, it's not hard to find a favorite stand-up act or improv troupe performing at a local comedy club. But live tapings of podcasts provide a whole new way to catch local comedians. Free from the format of traditional comedy shows, these funnymen and women and their equally witty guests get to riff on hot topics of the day, delve into absurdist philosophy and shock and awe with extemporaneous (and sometimes x-rated) tales.
Risk!

Fitzdog Radio

Walking the Room

Doug Loves Movies
Comedian
Doug Benson
hosts this film afficionado's dream podcast, in which he and guests—including comedians, actors, writers and directors—geek out about movies new and old. Tune in to hear rousing bits like "the Leonard Maltin game," which is similar to Name That Tune except instead of using songs, Doug reads descriptions from the Leonard Maltin movie guide, a definitive text by America's famously benign film critic. The show, which has been on for almost five years, is hosted regularly at UCB; Doug suggests sneaking a beer in to enjoy while you watch.
SuperEgo Live
This sketch comedy podcast is presented by improvisors Matt Gourley, Jeremy Carter, Mark McConville and Jeff Crocker, and comprises comedy routines "loosely framed in a pseudo-psychological series of Case Studies presented by the Superego Clinic for Analytical Psience." Which basically means that these guys do whatever the hell they want onstage—the whole show is improvised, and includes sound effects and music cues to set the mood, whatever that mood happens to be. Guests such as Patton Oswalt, Rob Delaney and Paul F. Tompkins occasionally join the mix for a full-on comedy onslaught.
Last Week on Earth

Hollywood Babble-On
The Adam Carolla Show
Nobody Likes Onions
Perfect 10
(
source
)