Upright Citizens Brigade Theatre
Upright Citizens Brigade Theatre has affordable, comedy shows seven nights a week in NYC and LA. Watch the best improv, sketch and standup in the country. Our original comedy video productions have garnered the national spotlight. We also run the first nationally accredited improv and sketch comedy school in the country. For information on our courses, visit the Training Center.
Time Out names ASSSSCAT, Diamond Lion, The Smokes, Shitty Jobs, Last Day of School & Convoy on list of "Best Improv"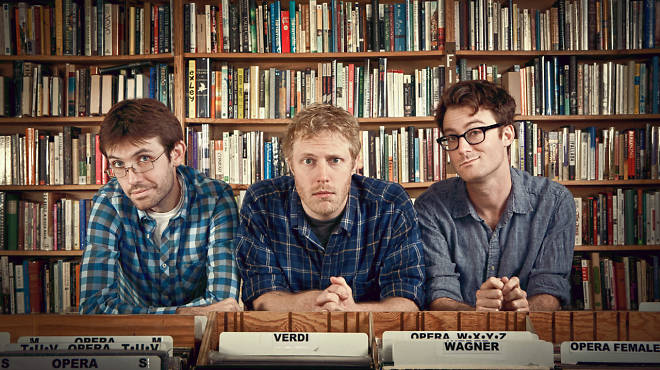 Time Out Los Angeles
June 2013
Comedy shows in LA: The best improv comedy teams in Los Angeles

by Jane Borden
For improv comedy shows in LA, look no further than our list of the best improvisational comedy teams in town.

Improv comedy may have been born in Chicago, but it's alive and well on the West coast, sprouting up in tons of comedy shows in LA. Anchoring the exploding scene of impromptu theater are three major venues. The Groundlings set down roots in 1978; Chicago's famed iO Theatre opened iO West in 2001; and New York's powerhouse Upright Citizens Brigade Theatre landed here in 2005. Since each also teaches the craft, their stages are always brimming with new and exciting talent. Tomorrow's stars are currently the small stage's royalty—and of course many of today's most famous TV and film faces cut their teeth in improv theaters, and frequently return to play. All you have to do to see them is reserve a seat and give them a suggestion.
Diamond Lion
For anyone wishing musical theater wouldn't take itself so seriously, there's Diamond Lion. A simple set up—the cast performs a series of improvised scenes that eventually break into off-the-cuff songs—belies the athleticism required of its players. Just ask any of the guest stars. Each week, the pride invites a different performer to join, on one condition: that he or she has no musical-improv experience. It's a joy to watch this newbie be carried to lyrical greatness by the rest of the players.
Quartet
The Crazy Uncle Joe Show
Asssscat
Every Saturday and Sunday, the UCB franchise's longest-running and most beloved showcase starts when a base cast of the theater's current top-brass—including founding UCB members Matt Walsh, Matt Besser and Ian Roberts—takes the stage. Then they introduce the surprise celebrity alumnae and friends who will be joining them (think Horatio Sanz, Ben Schwartz, Adam Pally). And finally, another special guest takes the stage, a non-improviser (think Flea, Cat Power, Rebel Wilson, Lena Dunham) who opens the show with a personal story, that's deftly mined for laughs by the players. But you have to go to find out who's there—that's part of the fun. Looking for a cheap night out? Sunday shows are free, but seating is first-come, first-served, so be sure to arrive early.
The Armando Show
The Smokes
Hyper-intelligent, seasoned, and the perfect combination of silly and grounded, the Smokes have long reigned as one of LA's most iconic ensembles—and the members all hail from New York. They trained and played at UCB's original theater before heading west, which means they've been getting their peanut butter in each other's chocolate for more than a decade—part of the recipe for improvisational genius.
Opening Night Musical
Shitty Jobs
This is one of the most buzzed-about improv teams in town: A month's run of weekly performances sells out after each calendar is posted. The structure is basic—sets are inspired by cast interviews with audience members about their worst jobs—but the execution is anything but. Shitty Jobs is a collection of ebullient, personality-driven performers (and recognizable TV faces), who somehow come together to form a cohesive unit that is the opposite of shitty.

Cookin' With Gas
Last Day of School + Convoy
The members of Last Day of School and Convoy, two teams that always play back-to-back, have won their manic following with dedication and unadulterated talent. Last Day of School was formed as one of the theater's house teams, but then graduated to a marquee slot for being so consistently awesome; they also own the title of longest-running UCB LA team. And Convoy—a rare three-member troupe in a sea of eights—shows what can happen when a few players know each other's brains so well that they function as a very funny one. This is possibly the best two-for-one deal in town.
(
source
)