Upright Citizens Brigade Theatre
Upright Citizens Brigade Theatre has affordable, comedy shows seven nights a week in NYC and LA. Watch the best improv, sketch and standup in the country. Our original comedy video productions have garnered the national spotlight. We also run the first nationally accredited improv and sketch comedy school in the country. For information on our courses, visit the Training Center.
UCBT Performers Included on Vulture's "50 Comedians You Should and Will Know" List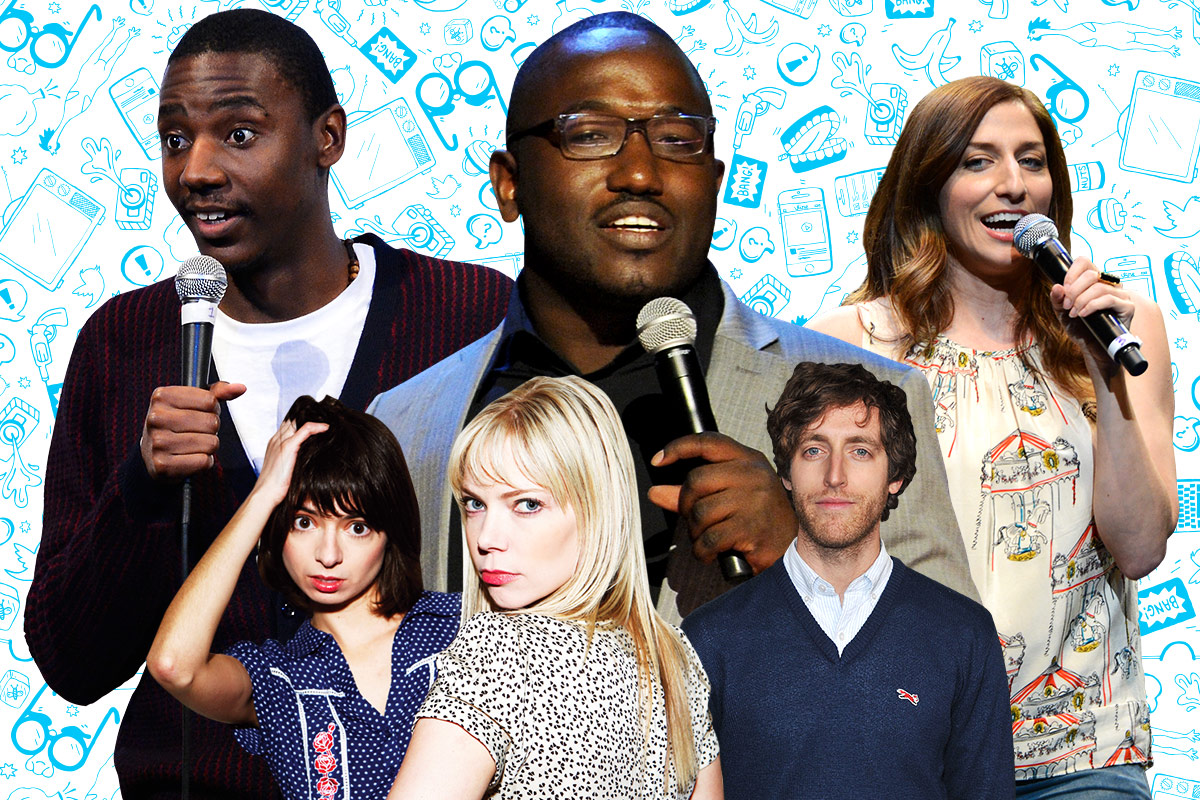 Vulture
April 29, 2013
The 50 Comedians You Should and Will Know
by Jesse David Fox
There's a comedy boom going on, and this one is far different from the skinny-tied, rolled-up-blazer-sleeved one in the eighties. That boom was all about proliferating comedy clubs vaulting comics into traditional sitcoms, but today's explosion is fueled by the web, growing new stars on Twitter, web series, and podcasts. The big improv theaters (UCB, Groundlings, iO, Second City) are feeders for sitcom casts, and stand-up comedy is still strong, but the comedians are no longer singlemindedly focused on getting a watered-down family sitcom: Now they want to follow the path of their Buddha, Louis C.K., and make a show that reflects their own sensibility, not network executives'.
This time next year (and in some cases, next week or month), there will be another wave of sharp comics and performers who will break out with major TV or film projects, and the media will write many "Where did s/he come from?" stories. Comedy fans will roll their eyes, having known for a long time that it was inevitable that these talented people would make it big. And now you will be able to knowingly roll your eyes with them: After huddling with a panel of journalists embedded in the comedy beat, we have assembled a list of the 50 Comedians You Should and Will Know.
This list, which kicks off a week of Vulture stories about all things comedy, will school you in the laughter landscape in the funniest way possible, short of spending every night in the UCB basement. We've got everything you need to know about these next big (and currently hilarious) things, and we've handed some entries over to such reigning big names in comedy as Patton Oswalt, Adam McKay,
Casey Wilson
,
Aziz Ansari
, and more to let them give their personal endorsements for their favorite funny people.
But first, our ground rules for assembling this non-ranked, randomly ordered list: We considered stand-ups, improvisers, writers, sketch teams, and podcasters who may have made a name for themselves in comedy circles and even had some TV credits, but have not yet appeared on their own show or as a series regular on a full-length TV comedy that lasted more than thirteen episodes. (A couple of people here have been sidetracked into supporting roles on more dramatic series, but have not yet landed a regular part on a show more in their comedy wheelhouse.) Some are already cast in shows that will be debuting soon, so all the more reason to get to know them now; each entry has a definitive clip of their act or performing, so you'll be well schooled in their sensibility. Plus, you'll get to laugh a lot.
(And special thanks to our panel of experts: New York Times comedy writers Jason Zinoman and Megan Angelo, We Killed: The Rise of Women in American Comedy author Yael Kohen, Time Out Chicago comedy critic Jason Heidemann, Splitsider's Adam Frucci and Bradford Evans, Huffington Post Comedy's Katla McGlynn and Ross Luippold, the A.V. Club's Steve Heisler, Laughspin's Dylan Gadino, and the Comedy Bureau's Jake Kroeger.) Now click on to get your glimpse of laughter's future.
John Mulaney
Known For:
Stand-up/Writing
Twitter:
@Mulaney
Comedy Endorsement by SNL's Bill Hader:
"I first met John when he was writing for Demetri Martin. I thought he was 12 and must be some sort of genius. I saw him perform with
Nick Kroll
around the time he was hired as a writer at SNL and realized he was indeed a genius. His comedy was so sharp. Then we started writing together. His ability to come up with the clearest, economic, yet original jokes was astounding. He's so fast. I've had the honor to work with people like Trey Parker, Tina Fey, Larry David, and he's in that camp. John's one of those guys who is just born with it. He had no choice but to be the funniest guy in the room."
Start With:
His hour special, New in Town, which ranked third on our list of top specials of 2012. In the above clip he discusses being useless with cars: "Nothing that I know can help with your car ever. Unless you're like, 'I have a flat tire, does anyone here know a lot about the Cosby Show?'"
Chelsea Peretti
Known For:
Stand-up/Writing
Twitter:
@ChelseaVPeretti
Why You Should/Will Know Her:
If you read/hear enough interviews in which stand-ups are asked to name their favorite comedians, Peretti seems to pop up more than any other. She's incredibly versatile, able to veer from confident to self-deprecating (citing the non-compliment of being told she looks like a pretty Penny Marshall), and she can be incredibly cutting (one routine mocks all of the overdone tropes of male stand-ups, like using a stool to pantomime having sex). She's in demand behind the scenes, having written for
The Sarah Silverman Program
,
Parks and Recreation
, and
Kroll Show
, but she left
Parks
before this season because she really wanted to be in front of the camera. Her old bosses obliged: She's been cast in
Parks
writers Dan Goor and Mike Schur's Fox cop sitcom. (She also has her popular call-in podcast, "Call Chelsea Peretti," which mostly involves her showcasing her incredible skill at making fun of people.)
Start With:
The clip above showcases many of her moves in less than two minutes: It goes from mocking overweight male stand-ups to noting the different reaction to fat men versus women, to taking a jab at the size of her own nose ("I know I can close a cabinet with it").
Katie Dippold
Known For:
Writing/Improv
Twitter:
@KatieDippold
Comedy Endorsement by Parks and Recreation creator/showrunner Mike Schur:
"I hired Katie Dippold to write for
Parks and Recreation
after reading exactly one page of a spec script she wrote. It was a crazy pilot about a mayor in a small town that's haunted, and one page in, I wrote 'hire her' at the top, because I'd never encountered a comedy brain like hers — the characters and jokes were fully formed and weird and funny as hell. Then I met her, and she told me that when she was young she fell off a swing and got a concussion, and she felt like somehow that event changed her brain and made her funnier. I can't say I recommend head trauma as a path to being funny, but let us all praise faulty playground equipment for giving us someone as funny as Katie Dippold — which is to say, as funny as people can be."
Start With:
Dippold left
Parks
before this season to concentrate on writing movies. Her first film is the highly anticipated action comedy
The Heat
, which stars Sandra Bullock and Melissa McCarthy, comes out this summer, and already has a sequel in the works.
The Birthday Boys
Known For:
Sketch
Twitter:
@TheBirthdayBoys
Why You Should/Will Know Them:
Just about since they formed in 2007, the seven-man Birthday Boys troupe has been L.A.'s favorite sketch group. Following in
Mr. Show
's footsteps, they are absurd, very silly, and particularly adept at skewering the minutia of pop culture that have heretofore gone un-skewered. Standout sketches include a video where they give Tom Hanks the "Where Are They Now" treatment ("the now-married Tom Hanks is still plugging away in the entertainment industry!"), and "Pooljumpers," a fake trailer for a hagiographic documentary about the group of mavericks who invented the game of trying to catch a ball while jumping into a pool (a spot-on parody of overly rhapsodic surfing and skateboard docs). Their success on the web has lead to its members getting gigs writing for and guesting on
Parks and Recreation
,
The Office
,
Conan
,
Comedy Bang! Bang!
, and
Portlandia
. They're currently working on their own sketch show for IFC, produced by Bob Odenkirk and Ben Stiller. As Stiller said in the announcement for the show, "The Birthday Boys are too good to just be making viral videos."
Start With:
"Pooljumpers," which should make Stacy Peralta slink down in his seat.
Kumail Nanjiani
Known For:
Stand-up/Acting
Twitter:
@kumailn
Comedy Endorsement by T.J. Miller:
"I first saw Kumail over ten years ago at the open mike at Lyons Den in Chicago. I still remember his first joke. It was this thing about how he wanted a unit of measurement named after him. Like, 'The torpedo's up to seven kumails.' Then he'd say, 'Seven kumails? That's way too many kumails! Most people can't even handle one kumail.' Then he did this kind of smirking smile to the audience, and it was like, well, this guy is hilarious, he's endearing, and he's a great joke writer. He's been in, like, ten TV or film projects in the last year [including popping up on Portlandia, working on a script for Judd Apatow, and being cast in three pilots, including Mike Judge's Silicon Valley for HBO, which also stars Miller], and he's going to be pretty big … I always say he's the white Aziz Ansari."
Start With:
Until his hour special premieres on Comedy Central this summer, watch his routine about the new popular drug among Midwest teens, which is a mixture of Tylenol PM and heroin. "So really it's heroin … heroin's doing the heavy lifting in this cocktail."
Broad City (Abbi Jacobson and Ilana Glazer)
Known For:
Web Series/Sketch
Twitter:
@AbbiJacobson and @ilazer
Why You Should/Will Know Them:
Abbi Jacobson and Ilana Glazer's "Broad City" is a web series of hyperfocused mini-movies about young women trying to survive in New York City. Past topics have included yoga, dating, giving a homeless person money, running to get the last cookies at a favorite bakery, and buying pot for the first time in a long time — and they perfectly capture the minutia of Big Apple life and all of the awkwardness, worrying, and idealism associated with it. (And just like their Manhattan-centric progenitor Woody Allen, they aren't afraid to use jazz scores.)
Amy Poehler
worked with the duo (who also do a monthly stage show at New York's UCB theater) to develop a series, and last month Comedy Central made a deal to shoot a ten-episode season that will air in 2014.
Start With:
Their
Do the Right Thing
episode, which twists Spike Lee's classic to show what it's like to be a constantly harassed female in New York. Also, they do the Rosie Perez dance, which is really great.
Kyle Kinane
Known For:
Stand-up
Twitter:
@KyleKinane
Comedy Endorsement From Patton Oswalt:
"There's nothing more thrilling and, ultimately, frustrating for an older comedian than to see a younger one leave the starting gate more sure-footed than he ever was at that age. Kyle Kinane is a frustrating young comedian. Equally amused and horrified by his own actions, and able to tell tales of woe and failure with the lyrical brio of a songwriter, he's destined for hilarious infamy. Unless he gets himself killed, which, if you listen to any one of his stories/jokes, seems to be an abiding possibility."
Start With:
His hour special,
Whiskey Icarus
, which ranked second on our list of top specials of 2012. In the clip above, he talks about how everything in his life unraveled when he was delivered an unsliced pizza.
Moshe Kasher
Known For:
Stand-up/Podcasting
Twitter:
@MosheKasher
Why You Should/Will Know Him:
Moshe Kasher's stand-up is just as speedy as Robin Williams's, and his forearms are just as hairy, too. (That's not a cheap shot — he talks about their furriness in his act.) But Kasher uses his speed to fire out rapid-fire jokes attacking a subject in an unabashedly elitist way: He's comfortable talking down to conservatives, religious folk, the uneducated, frat guys, and so on. (One bit says that God should just cut out the middle of the United States and throw it away: "When I step east of Los Angeles, it's just banjo music all the way to New York, where Jay-Z greets me with a top hat.") Last year he released a memoir,
Kasher in the Rye: The True Tale of a White Boy From Oakland Who Became a Drug Addict, Criminal, Mental Patient, and Then Turned 16
(title kind of explains it all), wrote for the
New Normal
, and recently got cast opposite
Rob Corddry
in the ABC pilot
Spy
.
Start With:
His Fallon set, where he spits out his rage at witnessing a woman in an airport devouring a king-size Snickers ice-cream bar by spooning out its insides with Fritos Scoops. "You ever see somebody and you're just like, 'Oh, so you're what's wrong with everything in the world'?"
June Diane Raphael
Known For:
Acting/Podcasting
Twitter:
@MsJuneDiane
Comedy Endorsement From Happy Endings' Casey Wilson:
"June Diane Raphael and I met at NYU in a clown class. She was then and remains my favorite clown. We became co-collaborators and best friends, performing a two-woman show at UCB and sharing a waterbed in the East Village. Since our Ambien-splitting, St. Marks Place days, June has sparkled as brightly as her piercing baby blues in
NTSF:SD:SUV
,
Party Down
,
Happy Endings
,
New Girl
, and the podcast she co-hosts, "How Did This Get Made?," and I'm jealous to announce the upcoming
Anchorman 2
! Her most poignant role found her crouched next to me, bare-assed, in the opening shot of our road-trip movie,
Ass Backwards
. But June Diane is so much more than a bare ass. She is a pair of legs (the best in the biz!). She is also a comedic force in the vein of another clown I love, Lucy."
Start With:
While waiting to hear if ABC picks up her pilot, Pulling (with Kristen Schaal and
Jenny Slate
), catch up with season two of the Bachelor/Bachelorette-parody web series "Burning Love," in which she plays a dental hygienist with a heart of gold and major anger issues.
Matt Jones
Known For:
Acting/Improv
Twitter:
@MattJonesIsDead
Why You Should/Will Know Him:
Best known for playing wheezy-voiced comic-relief Badger on
Breaking Bad
, Matt Jones is lightning-quick at improv when he frequently shows up at L.A.'s UCB and iO. It's ironic that his speedy wit is often best displayed when playing a slow character, whether a dimwit or just really laid-back. He was slated to join Rainn Wilson's rejected
Office
spinoff, but he will be one of the stars of Chuck Lorre's CBS pilot
Mom
with Anna Faris and Allison Janney.
Start With:
The above Funny or Die sketch, in which he plays a shell-shocked bear-attack victim.
Thomas Middleditch
Known For:
Improv/Acting
Twitter:
@Middleditch
Comedy Endorsement by House of Lies/Parks and Recreation's Ben Schwartz:
"I met Thomas around seven years ago at the Upright Citizens Brigade Theatre in New York, and we have been improvising together for the better part of the past five years. The dude makes. me. laugh. He is one of my favorite improvisers to watch and play with. He has the ability to embody a character so perfectly, so specifically that he can make an entire crowd crack up off of a tiny movement or noise. I can't wait for more people to see him in a larger medium so they can fall in love with him just as audience after audience does at UCB. Actually, fuck this ... I kind of hate how funny he is. Can I get him off of this list?"
Start With:
With his role in
The Office
spinoff
The Farm
not panning out, Middleditch is focused on starring in Mike Judge's HBO pilot,
Silicon Valley
. Until then, sample "The Morning After," a web series about his character's uncomfortable interactions after a one-night stand.
Jason Mantzoukas
Known For:
Improv/Acting
Twitter:
None
Comedy Endorsement by His The League Co-Star Paul Scheer:
"I first encountered Jason at the UCB Theatre more than a decade ago, first as a fan and then as a friend. The best thing about Jason is that you never can predict what's going to come out of his mouth. He has an ability to tap into the id of everyone he plays and say things that you don't want to acknowledge that you ever even thought. He is extreme, sometimes vile, and always hilarious. He's like a comedic grenade that is thrown into a situation and creates a supreme chaos that is unmatchable by any other performer that I've ever worked with. But on top of it all he's one of the most sincere, smart, and pop-culture-savvy people that I've come across who probably is pretty good at finger-banging."
Start With:
Mantzoukas has been seen in The Dictator and Enlightened, but is best known for playing the hilariously vile Rafi on The League. In the above clip from season two, he pitches Andre (Scheer) on shooting a porno in his apartment.
Jon Daly
Known For:
Sketch/Acting
Twitter:
@JonDaly
Why You Should/Will Know Him:
Of all the odd characters Jon Daly has created for his web videos and appearances on podcasts like "Comedy Bang! Bang!," the most popular one is probably Bill Cosby Bukowski. A mash-up of the grimy beat writer and iconic comedian (BCB performs "jell-oems," gritty free verse about Jell-O), it captures all of the peculiarities of Daly's comedic voice: a little edgy, unhinged, purposefully dumb, and totally hilarious. (Other core characters: smooth jazz artist Barry R.; the drunk, English, Rollerblading pine tree Sappity Tappity; and Ticklish Cage, who is, naturally, a ticklish Nicolas Cage.) The UCB-trained Daly brings that sensibility to his scattershot sketch podcast "Rafflecast" and as a producer/writer/performer on
Kroll Show
. (He plays Aspen in the "Rich Dicks" sketches.) Next for Daly: a role on
Betas
, the Amazon sitcom pilot (which you can watch here) where Daly plays the creator of an app who's trying to raise money from Silicon Valley venture capitalists.
Start With:
Bill Cosby Bukowski's recital of his poem, "The Most Fuckable Huxtable."
Kay Cannon
Known For:
Writing/Improv
Twitter:
@KayKayCannon
Why You Should/Will Know Her:
A Second City– and iO-trained improviser, Kay Cannon agreed to take time off performing when her friend from Chicago, Tina Fey, asked her to join the writing staff for
30 Rock
. She ended up staying with the show for all but its last year, and by the time she left, she was able to approach comedy from both a writer's and a performer's perspective. This hybrid sensibility was put to use when she joined the staff of
New Girl
this season as an executive producer, which seems to correspond with the show's uptick in laughs and physical comedy. While these shows are all honed by an entire writers' room, the control specimen for Cannon's talent is her screenplay for the surprise hit
Pitch Perfect
: It spotlights her skill of putting characters in the position to do something funny and be funny, not just say something funny. Last year she signed an overall deal with 20th Century Fox to develop shows; hopefully this will result in her style spreading farther into our DVRs on a weekly basis.
Start With:
You better have already seen
Pitch Perfect
: If not, start with that film and enjoy its bouncy dialogue. If you have seen it, check out the "Eggs" episode of
New Girl
, which she wrote and also appears in as Jess's lesbian gynecologist friend's wife.
Julie Klausner
Known For:
Writing/Podcasting
Twitter:
@JulieKlausner
Why You Should/Will Know Her:
Disclaimer —the placement of Vulture's
Real Housewives
expert and video host is not nepotism; she was nominated by multiple people not on our payroll. And with good reason. She's an octuple-threat: acting, singing, dancing, writing, monologuing, interviewing, kibitzing ... and is TV recapping a threat? It should be. She's written two books (her memoir
I Don't Care About Your Band
and her upcoming YA novel
Art Girls Are Easy
) and for TV (
Billy on the Street
), but all of her talents are showcased in her podcast "How Was Your Week," which features informal chats with comedians/authors/whomever and a free-associative comedic monologue about her pop-culture obsessions du jour (which usually includes Mario Lopez's inane, diet-obsessed Twitter feed). The diversity of guests and highbrow/lowbrow mix on "HWYW" brings to mind the old
The Dick Cavett Show
, but with more of an old Broadway sensibility.
Start With:
Her podcast — but since that's not visual, check out the video she shot for a "HWYW" live show, in which she, Ted Leo, and her producer Spoony irritate their teacher in a whiskey-and-whittling class by getting stinking drunk.
Jonah Ray
Known For:
Stand-up/Podcasting
Twitter:
@JonahRay
Comedy Endorsement From Nerdist's Chris Hardwick:
"I first met Jonah Ray in the year 2000 (which sounds so future-y) doing open mikes in L.A. He was fun, eager, and underage, so I used to make him take me to fast-food drive-thrus at 3 a.m. when I was drunk, where I would drone on and on about myself and my dumb philosophies on stuff. In my sober years I would learn that Jonah actually had thoughts and feelings of his own. He's one of those guys that everyone is friends with, because he's a sweetly charming guy who's a good hang. In 2010, I called him one Thursday and said, 'Hey do you wanna do a podcast?' He quickly said yes but unfortunately hung up before I said, 'FOREVERRRRRR' and began cackling like a stovepipe-hat villain in a bad comedy sketch. On said podcast, "Nerdist," he portrays a harass-y, older brother-type version of himself — he's the guy who gives you shit, but it's hilarious because you know he really loves you. I've seen him evolve from a one-line-joke baby comic into an incredibly solid stand-up who co-runs the best comedy show in L.A. (with another comedy Jedi, Kumail Nanjiani). (The show, called Meltdown, is shooting a pilot for Comedy Central.) In conclusion, Jonah Ray is a phenomenal dude, a superb comic, and a huggable friend. I'm proud of him and feel lucky to know him. I'm sorry this paragraph ended up reading like a eulogy. I guess I should probably clarify that he is not dead."
Start With:
Until his Comedy Central
Half Hour
comes out on May 24, watch his affable June 2012
Conan
set, during which he talks about the perks of having a sad friend: You have an excuse to drink during the day.
Lauren Lapkus
Known For:
Improv/Acting
Twitter:
@LaurenLapkus
Why You Should/Will Know Her:
The UCB-trained Lauren Lapkus will forever be employable because sitcom writers love weirdo characters. We mean that in the best possible way: Lapkus is fantastic at finding new ways to play overeager, crazy, socially awkward, and/or nerdy. She was easily the best part of
Are You There, Chelsea?
, in which she played Chelsea's uncool, overly enthusiastic roommate. And the cycle continues: She was recently cast in the NBC pilot
Joe, Joe, and Jane
, playing a friend who often makes bad decisions.
Start With:
No, not
Are You There, Chelsea?
, because that would be mean. Instead watch this sketch from
Jimmy Kimmel Live
in which she plays a secretary who freaks out when Jimmy has her biggest celebrity crush, Ryan Reynolds, fire her.
Garfunkel and Oates (Riki Lindhome and Kate Micucci)
Known For:
Musical Comedy/Acting
Twitter:
@RikiLindhome and @KateMicucci

Why You Should/Will Know Them:
By day, Riki Lindhome and Kate Micucci are mild-mannered working actors. (Lindhome most recently appeared in a few episodes of
Enlightenened
; Micucci has a recurring role on
Raising Hope
.) But by night they become the ballsy, road-tested folk-comedy duo Garfunkel and Oates, a distaff Tenacious D with songs that contrast the women's apparent sweetness with overtly sexual content. A sampling of their repertoire: "Hand Job, Bland Job, I Don't Understand Job" (an eighties-style rap about not knowing how to give a handy), "Go Kart Racing (Accidentally Masturbating)" (a bouncy ditty about how the two activities give similar pleasures), "One Night Stand" (which is pretty self-explanatory). They also have songs about smug pregnant women, douches ruining parties, and not knowing where to look while being serenaded. Their YouTube channel has more than 25 million views, so their own Flight of the Conchords–type show would seem inevitable. And lo, while a pilot for HBO didn't pan out, IFC just announced a pilot starring the duo.
Start With:
"29/31," a tune sung from the perspective of the same woman at these two chronologically close but emotionally very different ages.
James Adomian
Known For:
Stand-up/Podcast Appearances
Twitter:
@JAdomian
Comedy Endorsement by Comedy Bang! Bang!'s Scott Aukerman:
"I first saw James perform during a friend's show in a tiny theatre in Hollywood. He did several characters and sketches, and showed a video he made where he was hilarious just being himself. I was instantly blown away by the depth of his creativity, and at that point, I hadn't even seen his "best" impression - George W. Bush (which he confoundingly abandoned the day the man left office). Over the years I've worked closely with him, having him on my podcast, where he became a fan favorite, and putting out his first album. But I've probably been most proud of James when I went on tour with him, and watched him convert audiences regarding their feelings about gay comedians."
Start With:
His debut album
Low Hangin Fruit
, with the above bit about being a closeted gay kid on the high school football team. "Center is actually the perfect position for a gay kid on the football team. Because you're the one bent over and you're hiking the ball through your legs to the quarterback, the hottest guy in the known universe."
Chris Gethard
Known For:
Improv/Talk-Show Host
Twitter:
@ChrisGethard
Why You Should/Will Know Him:
In 2010 it seemed like Gethard was about to break out into the mainstream when he was selected to replace the bailing Jon Heder at the last minute for the Comedy Central sitcom
Big Lake
. The show quickly fizzled, and Gethard returned to what the UCB veteran had been doing: being a New York improv institution. He built up a cult following for his idolized
The Chris Gethard Show
, a hodgepodge of stunts, call-ins, absurdism, unfiltered earnestness, silliness, and hanging out that started as a live show but moved to Manhattan public-access cable in 2011 and streams online. (One classic, dangerous bit involved Gethard being held upside and dipped into a bucket of toys like a crane you'd find in an arcade or bowling alley.) Self-deprecating, upbeat, and immensely supportive to any of his fans who feel like an outcast, he wrote a 2012 book of personal essays,
A Bad Idea I'm About to Do
, in which he mines his own mistakes and tries to find comedy in his failings. IFC has "adopted" him by hosting his web videos and working with him to develop a show based on his book.
Start With:
In February of last year, when a teenage fan/frequent caller to his show was in town, Gethard decided to put on a very special CGS for her. Seth Meyers called in, Tina Fey made her a video, Jon Glaser wrote her a note, and Zachary Levi, Jack McBrayer, and Bobby Moynihan stopped by.
Elaine Carroll
Known For:
Sketch/Web Series
Twitter:
@Elainasaurus
Why You Should/Will Know Her:
When Elaine Carroll auditioned for
SNL
in 2009, she impersonated both Olsen twins. She got laughs but not an offer to join the show, so she decided to turn the adult life of one of the sisters into a web series, "Very Mary Kate," in which MK fails at school, gobbles pills, drinks, and rarely eats. If it had been an
SNL
sketch, it would likely have become a repetitive, one-note recurring character, but over 70 episodes, "Very Mary Kate" has evolved into a masterful, absurdist portrait that captures the special obliviousness of people who have been super famous nearly since birth and have no idea how the world actually works. "Very Mary Kate" is one of the cornerstones of College Humor's site, so as the company continues to move into TV and film production, Carroll's Mary Kate will be exposed to a bigger and bigger audience. (Carroll also does a killer Maggie Smith.)
Start With:
Above, Mary Kate gives her class a presentation on the potato famine, which is complicated by her inability to distinguish between potatoes and corn.
Pete Holmes
Known For:
Stand-up/Podcasting
Twitter:
@PeteHolmes
Why You Should/Will Know Him:
There are two sides to Pete Holmes. Onstage he's a super tall, boisterous, goofy, likable live performer prone to yelling out rhyming phrases like "Pierce get beers!" and "Prince get mints!" just because they sound funny to him. And then there is his incredibly honest and confessional podcast, "You Made It Weird," a "WTF"-like interview show in which he and other comics frankly discuss comedy, sex, and religion. This fall he will combine his stand-up and interviewing skills for his biggest break yet: hosting his own talk show on TBS airing after
Conan
and produced by Conan O'Brien himself. Get ready for two hours of immensely tall entertainment! (Oh, and under "other skills" on his résumé: supplying the voice of the E-Trade baby and contributing cartoons to
The New Yorker
.)
Start With:
Until his hour special, "Nice Try, The Devil" premieres on Comedy Central on May 12, watch him talking about being unable to have sex in his dreams, a bit also available on his first album,
Impregnated With Wonder
.
Echo Kellum
Known For:
Acting/Improv
Twitter:
@EchoK
Why You Should/Will Know Him:
Maybe it's the glasses, but Kellum is great at playing nerdy characters unable to keep up a cool front, a persona perfectly showcased in last year's short-lived and little-seen
Ben and Kate
, where he played Ben's excitable tennis-pro best friend, Tommy. He trained everywhere in L.A. (UCB, Groundlings, and iO West), emerging a lean, mean, role-getting machine:
Ben and Kate
may have been quickly canceled, but this year he's in two NBC pilots:
The Gates
with Ken Marino, and the still untitled Sean Hayes/Victor Fresco comedy.
Start With:
The episode of
Ben and Kate
where his character Tommy accidentally takes drugs and freaks out.
Gil Ozeri
Known For:
Improv/Writing
Twitter:
@GilOzeri
Comedy Endorsement from Happy Endings' Adam Pally:
"I first met my friend Gil ten years ago in a class at the Upright Citizens Brigade theatre. We got paired up to do a scene where we were puppeteers doing a show for kids, but Gil's puppets were racist and inappropriately sexual, and I knew then that we'd work together for the rest of our comedic lives, or till I died of early onset liver failure. [Ozeri currently writes for
Happy Endings
.] I've never seen a more physically gifted and fearless comedian on stage, and I've never worked with an odder, more hilarious and perverted comedic mind. My grandma, after seeing Gil perform once, told me that Gil would be the biggest comedy star in the world — if he didn't cast a shadow of a Mediterranean Peter Dinklage with the stance of a pregnant woman. I told her he would be that star anyway, and it is just about the coolest thing ever to see that I was right."
Start With:
His "UnTopical Man on the Street" videos, in which Ozeri plays a field reporter who obliviously asks passersby incredibly dated questions, like "Do you check Friendster more than five times a day?" and "Are you thinking about getting the 'Rachel' haircut?'"
BriTANick (Nick Kocher and Brian McElhaney)
Known For:
Sketch
Twitter:
@NickKocher and @BJMcElhaney
Why You Should/Will Know Them:
The YouTube powerhouse duo BriTANick has racked up 22 million views with such quick-cut, irreverent videos as "Boys Night In," in which Nick is tormented by an affliction in which he can't stop himself from flashing his penis whenever Brian says anything that could be turned into a double entendre (say, asking if there is sausage on a pizza or offering some nuts). The writing is much sharper than the average quick, viral-friendly clip and has more of a flair for the dramatic. Their web popularity recently has begun translating to Hollywood work, including gigs writing for
Goodwin Games
, the new Fox comedy from
How I Met Your Mother
co-creators Carter Bays and Craig Thomas, which is set to premiere in May, and roles in Joss Whedon's
Much Ado About Nothing
(which lead to Whedon appearing in a very funny sketch of theirs, playing a bathroom coach/bird). It's only a matter of time before they are able to package something centered on themselves.
Start With:
"A Monologue for Three" (featuring
Community
's Danny Pudi), in which Kocher tries to help McElhaney remember a line from a play, but instead quotes lines from Jersey Shore, Tetris, and McElhaney's drunk father.
Joe Mande
Known For:
Stand-up/Writing
Twitter:
@JoeMande
Comedy Endorsement From The League and Kroll Show's Nick Kroll:
"I met Joe right when he moved to NYC to pursue comedy. He was funny right out of college, and he has built on that to become one of the funniest people I've ever met. He's a great stand-up and storyteller, and his scripts are filled with crazy sharp jokes and story lines. [He's currently a writer on Parks and Recreation and worked on Kroll Show.] Joe is, in my opinion, the sharpest observer of American culture that I have met in comedy. His Twitter account beautifully curates the absolute worst of celebrities and corporations. If you get retweeted by Joe Mande, you have done something hilariously wrong. (Also, you should check out Fiddy's Biddies, where he posts interactions between 50 Cent and the women who profess their love and physical desires for him, and his Twitter war with basketball player Gilbert Arenas.)"
Start With:
His 2011
Conan
appearance, where he explains just how badly Hanukkah pales in comparison to Christmas. One demerit: having to sit around and "watch your grandma slowly fall asleep eating hash browns."
Betsy Sodaro
Known For:
Improv/Acting
Twitter:
@BirdySoderdy
Why You Should/Will Know Her:
The old expression "she can get laughs reading the phone book" applies to Betsy Sodaro, an exuberant, off-kilter actress whose voice sounds a bit like Carol Channing after she's been in a bar fight. She's cited Chris Farley as a major influence, and you can see it in her big, infectious personality and commitment to the cartoonish-ness of her characters: It's easy to imagine Farley playing Paula Deen in the aggressive, unhinged way that Sodaro does. As the bizarro animal handler Angela on
Animal Practice
, she was easily the best part of the quickly canceled show (yes, even better than the monkey); she was supposed to just be a guest in its pilot but was then picked up for the series. She's bound to be cast in a new comedy that will recognize the special energy she will bring as a really peculiar foil.
Start With:
Probably for the best that you avoid revisiting
Animal Practice
. Luckily, its two best parts, Sodaro and Crystal the monkey, star together in the above sketch, in which she plays the monkey's agent.
Paul Rust
Known For:
Writing/Acting
Twitter:
@PaulRust
Why You Should/Will Know Him:
The young-looking Paul Rust (at 28, he played a high-school student in 2009's
I Love You, Beth Cooper
) has a silly sense of humor that reveals an ironic wickedness. He enjoys finding comedy in how unfunny he can be, the best example being his recurring "New No-Nos" segment on the "Comedy Bang! Bang!" podcast. Parodying Bill Maher's "New Rules," he smugly delivers edicts in a tone that implies that he's the last sane man alive, but the No-Nos are actually either plain common sense or patently ridiculous: "New no-no: If I have to wait 30 minutes for my coffee, then I should be allowed to take 30 minutes to drink it," and "You guys ever been to the movies before, and you got that guy in front of you texting the whole time? New no-no: I should be able to draw a picture of you." This pure silliness may be why Judd Apatow asked him to work with Paul Reubens writing the next Pee-Wee Herman movie.
Start With:
The Funny or Die series "Guy Talk" is Rust's idea of a bro talk show, if run by the most milquetoast of men.
Angela Trimbur
Known For:
Acting/Sketch
Twitter:
@AngelaTrimbur
Comedy Endorsement by Upright Citizens Brigade co-founder Matt Besser:
"When Angela auditioned for the role of Sassy [in
Freak Dance
, Besser's dance comedy turned feature film], I knew that we didn't have to look any further. Her transformation into character is amazing. The audition was the first time we had met, so I was actually pretty convinced that the character she was doing was pretty much herself. She's great at playing sexy and having fun with it. And believe me, an ability to sing and dance and be funny is certainly a rare triple threat in the comedy community."
Start With:
See her dance skills in her popular Hello Giggles series "Dance Like Nobody's Watching," where she joyously boogies in a public space. Or see her sketch about the aftermath of crapping in a date's bathroom when he's right outside: It also has a dance finale!
Harris Wittels
Known For:
Writing/Podcasting
Twitter:
@Twittels
Why You Should/Will Know Him:
A frequent and popular guest on the "Comedy Bang! Bang!" podcast, Harris Wittels has a recurring segment in which he reads terrible jokes that he has written on his phone late at night just as he's falling asleep. The bit is called "Harris' Foam Corner" for reasons as random as the jokes are willfully terrible: "Where there's a will there's a Wayans"; "I think instead of them trying to desalinize the ocean, they should just add pepper"; "Wifi? Because-fi." These jokes, intended to receive the groans they inevitably receive, are part of his love of anti-comedy, but he's a versatile writer too: While he worked on the nihilistic
Sarah Silverman Program
and the raunchy
Eastbound and Down
, he has also written for the traditional
Parks and Recreation
for the length of its run so far. Clearly Hollywood has faith that he won't be writing his scripts late at night on his phone: He has a development deal with NBC and is working on a film project for Aziz Ansari and Danny McBride. (And when not doing all that, he keeps busy online: He runs the Humblebrag Twitter feed, which was turned into a book, and occasionally hosts the podcast "Analyze Phish," in which he tries to convince Scott Aukerman to like the band Phish and never succeeds.)
Start With:
This 2011 "Comedy Bang! Bang!" where he and fellow guest Adam Scott performed as two brother-in-law lumberyard workers, an improv that goes from so-unfunny-it's-hilarious to legit-hilarious.
Nick Thune
Known For:
Stand-Up
Twitter:
@NickThune
Why You Should/Will Know Him:
It's harder and harder to be a one-liner comedian in an age where such comedy fills up Twitter all day long. Nick Thune, however, steadfastedly and successfully follows the path trod successively by Steven Wright, Mitch Hedberg, and Demetri Martin, though he's less dry than Wright, less out of it than Hedberg, and less nerdy than Martin. Some jokes from his 2010 album, Think Noon: "Wouldn't the world be a cleaner place if we gave blind people brooms instead of canes?" "The only technical part of a technical college is it's technically a community college." "Life Savers only work if you're diabetic." He's also really great-looking — not just "comedy good-looking," but TV-star great-looking, which is why he frequently finds himself with pilot and development deals, though none have gone to series yet. (He most recently developed a show about an anthropologist who moves to Brooklyn and starts studying hipsters.)
Start With:
His 2008
Comedy Central Presents
special, in which he tells one-liners with and without accompanying himself on guitar.
Ron Funches
Baron Vaughn
Amy Schumer
Rory Scovel
Megan Amram
Jerrod Carmichael
Issa Rae
Hannibal Buress
Lauryn Kahn
Michael Che
Jake & Amir (Jake Hurwitz and Amir Blumenfeld)
Gabe Liedman
Megan Ganz
Cristela Alonzo
Mike O'Brien
Deon Cole
Tig Notaro
Bo Burnham
Paula Pell
(
source
)