Upright Citizens Brigade Theatre
Upright Citizens Brigade Theatre has affordable, comedy shows seven nights a week in NYC and LA. Watch the best improv, sketch and standup in the country. Our original comedy video productions have garnered the national spotlight. We also run the first nationally accredited improv and sketch comedy school in the country. For information on our courses, visit the Training Center.
Comedy Central renews "Kroll Show"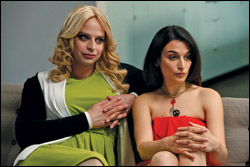 Variety
January 31, 2013
Comedy Central renews 'Kroll Show'
by Stuart Levine
Sketch series will have 10 episodes in new season
Comedy Central has given a second-season order to "Kroll Show." The new season will consist of 10 episodes.
Sketch show has been a hit since launching Jan. 16. Premiere episode drew 1.4 million viewers in its initial 10:30 p.m. telecast and 2 million including repeats that night. Program fares especially well among young males.
"
Nick Kroll
plays his characters with such comedic conviction, it's become obvious he has a serious personality disorder," said programming topper Kent Alterman. "We hope another season will help him discover who he really is."
Kroll also stars or appears in several other series, including FX's low-budget laffer "The League."
Kroll, John Levenstein and Jonathan Krisel are exec producers.
(
source
)