Upright Citizens Brigade Theatre
Upright Citizens Brigade Theatre has affordable, comedy shows seven nights a week in NYC and LA. Watch the best improv, sketch and standup in the country. Our original comedy video productions have garnered the national spotlight. We also run the first nationally accredited improv and sketch comedy school in the country. For information on our courses, visit the Training Center.
Congratulations UCBT performers named in Variety's 10 Comics to Watch
Variety
July 24, 2012
10 Comics to Watch
by Justin Shady (Delaney), Steve Heisler (Kasher, Mande), Todd Kushigemachi (Williams)
It's been a breakthrough year for these up-and-coming comedians, whose talent comes across loud and clear onstage, online and anywhere else they can find to share their wit.
Jillian Bell
Kurt Braunohler
Sarah Colonna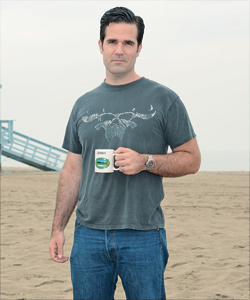 Rob Delaney: Standup finds following on Twitter


Rob Delaney
was playing Sir Lancelot in a road show of "Camelot" when the standup bug bit. "We were running late because our bus had broken down, and I was doing sound check in front of the audience when I made them laugh. At that point, I was like, 'I want to do comedy for the rest of my life.'?"
The Boston native soon moved west and began performing at venues in Los Angeles, hoping to get noticed. But the industry wasn't terribly interested in Delaney's longform, story-based style of comedy. Then, in 2009, Delaney set up a Twitter account and proved that he could be hilarious in 140 characters or fewer -- often a lot fewer.
"I had been slaving away in the mines doing all the traditional stuff, but Twitter exposed me to other people," says Delaney, whose short, wildly irreverent posts earned him the distinction of Funniest Person on Twitter at Comedy Central's Comedy Awards.
"Since I wasn't making a living doing comedy at the time, I didn't feel bad about giving material away," he says. "There was a time in the beginning when people were saying, 'You can't give it away for free. Make people pay for it.' But I couldn't make people pay for it."
Now they do. Delaney's tweets have amassed more than half a million followers -- an audience that has translated into real ticket sales. The attention even earned him gigs on the British series "The IT Crowd" and MTV's "Ridiculousness."
"I went from telemarketing and doing standup for nickels to having two TV writing jobs," he says.
Since then, Delaney has shot a special he plans to self-distribute via his website, as well as a pilot for Comedy Central, appropriately titled "@robdelaney." He's also busy penning a book for Random House and a screenplay.
But his true love remains standup. He performs monthly shows at UCB with friend
Dave Holmes
and has sets slated at Just for Laughs and the New York Comedy Festival, as well as a sold-out weeklong stint for October at London's Soho Theater.
"Twitter wasn't here last week, and it won't be here next week, but I'll still be making jokes," he says.
Laugh Facts
P.O.V.:
"Can you afford milk and pants? Then you're rich. Anything above that is just ridiculous."
Influences:
Bill Cosby, Richard Pryor, George Carlin, Joan Rivers.
Reps:
WME/Avalon/Bloom Hergott Diemer Rosenthal LaViolette Feldman Schenkman and Goodman
Lil Rel Howery
Jake Hurwitz & Amir Blumenfeld
Moshe Kasher: Wild past fuels promising future


After years of sharing crazy stories onstage,
Moshe Kasher
agreed to try something different with his latest longform monologue. At the encouragement of his manager, the comic arranged the outrageous details of his upbringing into a published memoir, "Kasher in the Rye."
The title may be clever, but the subtitle is even more telling: "The True Tale of a White Boy From Oakland Who Became a Drug Addict, Criminal, Mental Patient, and Then Turned 16."
Clearly, Kasher has a wealth of auto-biographical material to draw from. Describing the book, the comedian says, "While you're being distracted by pretty little jokes, you're shot along a conveyor belt into a dark and claustrophobic place. You almost don't know how you got there, which parallels the experience I had living all that stuff."
The same goes for his standup, which is marked by Kasher's ability to turn hardships (he was raised by two deaf parents) into humor via snappy one-liners ("My parents were really into hip-hop").
"I love stories of my own ridiculous human failings — and the failings of people I see around me," he says. "I never tried to be edgy or offensive in my life, (but) all my taboos got beaten out of me in my youth."
That style caught the attention of producer Ryan Murphy, who met with Kasher about writing for "The New Normal" and reportedly booked the comic on the spot.
"For me, the fun is found in gallows humor. To some degree, I feel like I was born on the gallows," he says. "I've been there my whole life, telling jokes to stave off execution. I really love that dark place."
Laugh Facts

P.O.V.:
"I once asked myself, 'What would I be doing if I could be doing whatever I want?' Well I'd really like to tour doing standup and write books. Then I realized I'm literally doing that right now, so I can probably dial back on the neurosis a little bit."
Influences:
"Hip hop, sex, drug addiction, Oakland, mental retardation, my peers."
Reps:
WME/Gersh/3 Arts
Joe Mande: For 'Parks and Rec' scribe, comedy is his calling
Joe Mande
was never much good at anything but comedy. Right out of college, he got a suit-and-tie job at a high-end optical store his cousin owned in New York. Though Mande trained as a salesperson, over the course of two years, he slowly got demoted until he was the company's delivery boy.
"I was doing standup every night, staying up late and going to work with four hours of sleep," admits Mande, whose dedication to comedy eventually paid off: He could quit his day job.
That's because Mande is a material-generating machine. He's constantly writing jokes, which has paid off onstage (keeping his act fresh while touring with
Aziz Ansari
and giving him more than enough material to fill an episode of Comedy Central's "The Half Hour") and has been especially useful behind-the-scenes, where he has been working as a writer on "Parks and Recreation," "Delocated" and "The Nick Kroll Show."
Also active on Twitter, Mande is known for antagonizing celebrities, sarcastically retweeting inane comments or inserting pictures of penises into politician's tweets and asking, "Wrong link?"
His ability to mine shallowness for comedic nuance is incredible. Some of his targets, like Russell Crowe, have apparently wised up and blocked him entirely.
"I have like a nervous tick: Every couple hours, I manically go through Twitter," he says.
The new job requires scaling back some of that activity, along with the sheer amount of standup he finds time to practice -- not easy for someone who's been performing onstage since his mid-teens.
"I'm an adult now," he says. "I can't stay out late every night."
Laugh Facts
P.O.V.:
"If I can get one thing from this Variety list, it's to get Russell Crowe to unblock me on Twitter."
Influences:
"The movie 'Hitch.'"
Reps:
CAA/Generate
Rory Scovel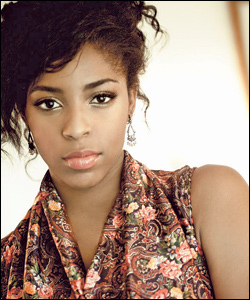 Jessica Williams: UCB trouper gives 'Daily Show' youth
Technically,
Jessica Williams
is still a student at Cal State Long Beach, though few would blame her for taking a leave of absence. After toughing it as an undergrad, the sassy, "not going to take any shit" comic booked a job as "The Daily Show's" youngest correspondent, interviewing socialist factions and chastising Jon Stewart on-air.
"I've been to Del Taco, scraping for change, and the cashier would say, 'Just take this chicken soft taco,'?" Williams says. "That was my life in September, and now I live in New York City, and I work on 'The Daily Show.'?"
This isn't the first time Williams has juggled stardom and school. As a teen, she appeared in Nickelodeon's "Just for Kicks" for the series' one and only season, after which she returned to high school and participated in the improv show ComedySportz. In college, Williams started doing sketch comedy at the Upright Citizens Brigade, paving the way for her "Daily Show" gig.
Field pieces aside, the show suits Williams' experience performing in front of live audiences. "The show films in real time, so I still perform live in front of people like I'm used to," she says.
Looking forward, Williams is most interested in writing sketches or movies and performing standup, which she's never done. But she wants to try it all: do a one-woman show, write a book or just about anything related to comedy or writing.
"The cool thing about this job is that it's opening me up to a million crazy-ass possibilities," she says. "That's my biggest problem. I want everything."
Laugh Facts
P.O.V.:
"Sometimes I collaborate with the writers if they write things in my language. So instead of saying, 'Cool,' I would say, 'Dope.'?"
Influences:
Eddie Murphy, Amy Poehler, Lucille Ball, Tina Fey -- and Beyonce, for her work ethic
Reps:
United Talent Agency/Mosaic
(
source
)